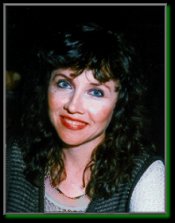 Jennifer Roberson has been writing professionally since 1984. She is best known for the 8-volume Chronicles of the Cheysuli series, and the Sword-Dancer series, whose 6th installment is due out in 2000. But she has also been a prolific short-story writer, and her contributions, over 20 stories, have appeared in magazines and anthologies, including Marion Zimmer Bradley's Sword & Sorceress anthology series, since 1984. Other work has included Highlander: Scotland the Brave, based on the TV series starring Adrian Paul, and a collaboration with Melanie Rawn & Kate Elliot entitled The Gold Key, which was one of the final five nominees for the World Fantasy Award in 1997. Her books and stories have been translated and published worldwide.
Jennifer grew up in Arizona, and in 1982 graduated from Northern Arizona University with a B. Sc. in journalism, with an extended major in British History. However, her work for a master's degree was turned down as being too commercial - which proved happily true, as she sold her first book in 1984. Other accomplishments include competition in amateur rodeo, and extensive research throughout the British Isles. Prior to becoming a professional writer, she exercised her skills as both an investigative reporter and an advertising copywriter. She currently lives near Phoenix, Arizona, where her favorite hobby is breeding, training and showing Cardigan Welsh Corgis and Labrador Retrievers.
For more information, be sure to check out Jennifer's very informative and extensive home page.
Sources:
Official Jennifer Roberson Website
Sword & Sorceress volume 1, Marion Zimmer Bradley, editor
*More details to follow!*
*More details to follow!*
*More details to follow!*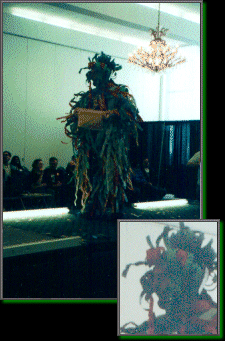 If you've been to Keycon, you've probably met Tim. You've almost certainly bought some sort of ticket from him. We asked him for a bio; he said write one. So we just put in this picture instead. This is Tim's alter ego, the Raffle Monster. Yes it's really him (check out the small pic) at Keycon 1998. Hey Tim, can we have that bio now?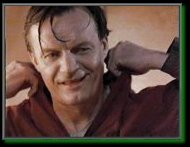 Brian Downey plays Stanley H. Tweedle, Captain of the mighty LEXX, the most powerful weapon of destruction in two universes, or what's left of them. Says Downey: "Stanley isn't really a coward. He's an everyman. He looks after basic needs, food, shelter, safety. If something looks dangerous, he's not going to go there. But if he can help someone without risk to himself then he'll probably do it."
Originally a talented and popular blues musician Downey fell inadvertently into acting in 1979, and has since then featured in such television series as Millennium, several movies including Normanís Awesome Adventure, Georgeís Island, Secret Nation, John and the Missus, and Adventures of Faustus Bidgood. Salter Street Films producer Paul Donovan, saw Downey and was so impressed with his work he cast him in subsequent Salter Street productions. Later, in 1994, when Donovan was developing the idea for the LEXX, Downey was the first choice for the 'hero' Stanley Tweedle. Downey featured in a ten minute demonstration reel that was used to sell the show a year later.
Since then heís been chased by man eating cannibal women, propositioned by gay S&M robots, fled a bug the size of a planet, flirted with affectionate plant women, changed his sex, fled from divine zombies, been trapped in a full body condom, menaced by white trash hillbillies, had his heart broken by a tall dark dead man, been possessed by a spider creature, saved the human race, accidentally destroyed the universe, and - he hardly ever gets laid. Life was never like this for Captain Picard.
The outgoing and amiable Downey, however, is nothing like his cowardly television alter ego. When fans went visiting in Halifax, Downey went well out of his way to make them feel at home, giving personal tours of the set, signing autographs, and even inviting fans to his dressing room to hang out. Witty, personable, fun loving and friendly, with a devastating knack for impressions, Downey is sure to be a hit with fans.
Currently, Downey is shooting the third season of LEXX, at locations in Halifax, Nova Scotia; Berlin, Germany; and Namibia, in Southwest Africa. The series is being shown on television on Monday nights at 8:00 pm on the Space Channel.
Sources:
Media Release
As one fan site says in relation to Michael Sheard, "He's been in everything!" Michael's face and work are familiar to anyone who follows British TV, or science fiction on the small or big screens. His career has spanned four decades and many memorable roles. Perhaps the most immediately recalled appearance, for non-British audiences, anyway, is of course as Admiral Ozzel in The Empire Strikes Back. But Michael's career on TV and film includes a long string of roles. He's worked with 5 of the different Dr. Whos (more than any other actor) and his role as Mr. Bronson in the British TV series is remembered by many viewers. In fact, his book, Yes, Mr. Bronson: Memoirs of a Bum Actor was named for the character.
Other appearances? More incarnations of Adolf Hitler than you can shake a stick at, including on the big screen in Indiana Jones and the Last Crusade; the movies High Road to China, Force 10 From Navarone, among others, and TV roles on Space 1999, Blake's Seven, Coronation Street, All Creatures Great and Small, and The New Avengers, plus hundreds more! This is one busy, working actor! So thanks, Michael, for keeping your schedule clear for us here at Keycon - we're looking forward to another great weekend!
More details on Michael Sheard can be found at:
Lucasfan Website - an interview with Michael Sheard
Sources:
Men Behind the Masks Tour Website
Lucasfan Website
Keycon 16 program book
Art Show || Coming Events || Contact List || Extravaganzas
Fandom Links || Gaming || Hospitality Suites
Hotel Information || Memberships || Operations || Video Room

Home || Top || Guestbook
This page last updated May 6, 2000.
© Copyright 2000 Keycon. All information and artwork is the intellectual and creative property of Keycon or the authors and artists identified. Reproduction in whole or in part in any form or medium without express written consent of Keycon is strictly prohibited. All rights reserved.